- Sentry Project moves to WSU
- Infrared Camera purchased
- Multizone/ Pinpoint Metal Detector purchased
- Millimeter Wave Camera Acquired
- Graduate Research Assistant Hired
- Initial Press Release
Sentry Project moves to WSU
September, 2007
The Sentry Project has moved to Washington State University, along with the project's PI, Dr. Larry Holder. While the initial NSF MRI grant funding the project ended on August 31, 2007, Dr. Holder will continue working on the project at WSU to further study the benefits of multi-sensor portals to improve homeland security.
Infrared Camera purchased
May, 2006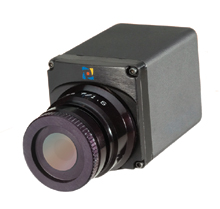 FLIR ThermoVision A10 Infrared Camera
FLIR Systems

The Sentry Project has purchased the ThermoVision A10 Infrared Camera from FLIR Systems. The A10 is one of the smallest infrared cameras in the world, but delivers performance typically found on larger, more expensive cameras. The infrared camera will be integrated with the other sensors (metal detection portal, millimeter wave camera, visual camera) to further enhance the ability to detect threats using the fusion of data from multiple sensors.
Metal Detector (Multizone) purchased
Aug, 2005
A Metal Detector has been purchased from Garrett Metal Detectors. Garrett is the global leader of walk-through, hand-held and ground search metal detection products and training for security and law enforcement applications.

The PD 6500i is the world's highest performing walk-through metal detector and leads the industry with superior pinpoint technology and unmatched discrimination and sensitivity features.

Specific Features:

Superior target detection with unmatched discrimination of harmless items such as coins, jewelry, keys, citrate packs etc.
Meets the new Transportation Security Administration's (TSA) Enhanced Metal Detector ( EMD) system required for all post 9-11 U.S. airport installations.
Multi coil Design ( 33 pin point zones), DSP technology, Zone Boost adjustments, IP - 55 weather proof construction.

PD6500i ( Multi zone Metal Detector)
Garrett Metal Detectors

Millimeter Wave Camera Acquired for Sentry Project
July, 2005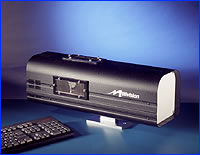 Vela125 ( Millimeter Wave Camera)
Millivison Technologies

The Sentry Project has acquired a Millimeter Wave Camera. The camera is among the integral parts of the project. It reveals the nature and location of items concealed under the clothing on the human body. The Vela125, Millimeter Wave Imaging Camera can detect both metallic and non metallic items enabling the detection of a wide range of objects including gun, knives, and other weapons.
The Vela125 camera is passive - it uses no artificial radiation to illuminate the scene. Because it uses only the naturally occurring millimeter wave radiation in the scene, the Vela125 camera is completely safe for the subjects, operators, and bystanders. No anatomical details are revealed by the Vela125 Millimeter wave imaging camera.
Graduate Research Assistant Hired
June, 2005
Amar Singh, a graduate student at Computer Science has been hired as a Research Assistant to work on the Sentry Project. His main role will be analysis of fusion of Data from heterogeneous resources for a developing a better threat level.
Initial Press Release
January, 2005
The Institute for Research in Security (IRIS) at the University of Texas at Arlington has received $250,000 in funding from the National Science Foundation to develop advanced security detection methods to monitor, prevent and recover from natural or inflicted disasters.
Computer Science & Engineering Professor Larry Holder is the lead investigator on the project. He is being assisted by Computer Science & Engineering Professors Ishfaq Ahmad and Sajal Das, Electrical Engineering Professor Frank Lewis, Mechanical & Aerospace Engineering Professor Frank Lu and several graduate students.
Current approaches to security detection systems (metal detectors and baggage scanners) rely on a few independent sensors to assess an individual's threat level. The IRIS team will develop a prototype walk-through security portal that uses a variety of sensors, visible, infrared and millimeter-wave images, metal detection data, and air detection data along with other information about the individual to determine a threat level. Dr. Holder and the team believe the fusion of all data from the sensors will yield a more accurate assessment than any one or more of the sensors produce individually.
The portal will facilitate research and development of advanced detection systems for secured entry through the use of multiple, network-integrated sensors. The team's approach encompasses several interdisciplinary research areas, including smart sensors, wireless sensor and data networks, sensor placement, sensor fusion, pervasive computing, image processing, databases and data mining. Progress in these areas is crucial to our national security efforts and will have a large impact in both the scientific and industry communities.
As part of this project, IRIS is collaborating with several public safety and law enforcement agencies in developing and deploying leading-edge technologies in existing and future environments. The most significant impact of this project will be the discovery of new techniques for safer, more secure environments and for improving homeland security.